Benedicto XIII, el papa luna
Diplomacy, tenacity and defiance
Illueca, 1328 – Peñíscola, 1423
Pedro Martínez de Luna y Pérez de Gotor belonged to one of the main lineages of Aragon. As a child he received military training, but his steps were finally directed towards the ecclesiastical sphere at a time when politics and diplomacy were cultivated in that sphere; he studied law in Montpellier, where he would later become a professor of Canon Law. A cultured and energetic man, after holding various clerical posts (canon, archdeacon, provost…) in Vic, Tarragona, Huesca, Mallorca, Cuenca, Tarazona, Saragossa and Valencia, Pope Gregory XI made him a cardinal-deacon in 1375.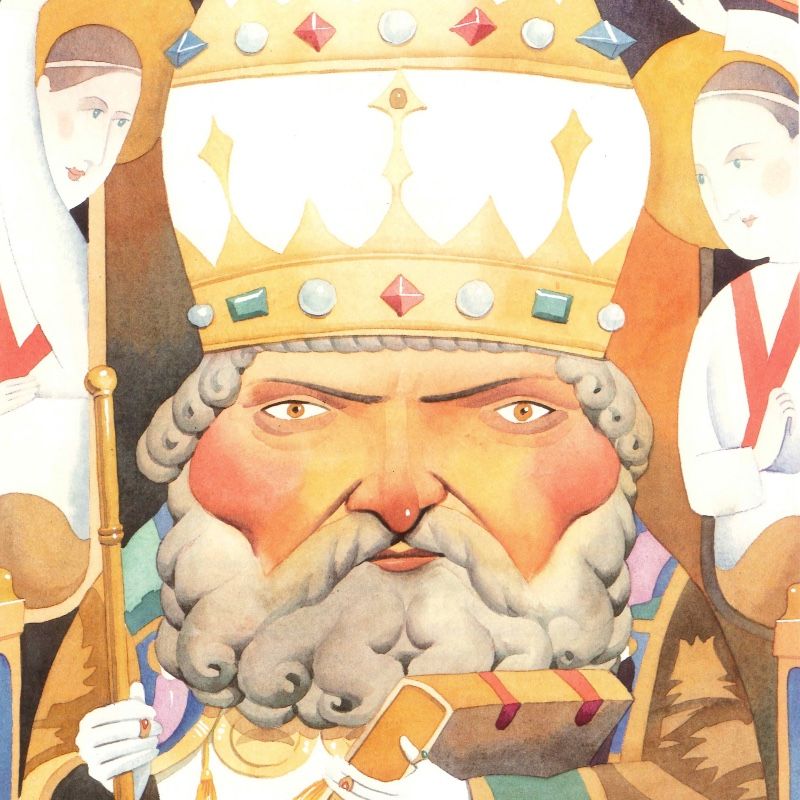 By then, the popes had been in Avignon for several decades, protected by the King of France from the dangers and conflicts of the city of Rome. Within the curia, Peter was an emissary judge, assigned to many diplomatic missions, and accompanied Gregory XI on his return to a (only apparently) pacified Rome in 1377. The following year, the pope died and, amidst tensions and threats, the conclave elected an Italian, the archbishop of Bari, who was to become Urban VI. Many of the cardinals (mostly French) regretted a deal that had been too forced and, as soon as they could leave Rome, they met in the nearby town of Anagni and elected Robert of Geneva as the new pope (Clement VII), an alternative to the one who had stayed in Rome. The schism in the Church was served.
The Aragonese prelate was one of Pope Clement's most trusted men. He won the support of several European states (including the Hispanic monarchies) for the cause that had returned to Avignon. He gained prestige which, after the death of Clement VII in 1394, led him to be elected by almost all the cardinals as the new pope: a Benedict XIII who, unlike his predecessors, did not allow himself to be manipulated by the King of France who, little by little, withdrew his favour until he asked him to resign in favour of the Pope of Rome in 1398. The refusal of the Aragonese provoked a military blockade of his palace in Avignon and his retreat to Naples in 1403.
By then, several cardinals had denied their obedience to Avignon. Only the kingdoms of Scotland, Sicily, Castile and Aragon recognised Pope Luna. He based his legitimacy on the fact that he alone was a cardinal before the schism occurred. Between failed attempts to reach agreement with the other side, support for his cause was dwindling and the imbroglio worsened in 1410, when a new pope emerged from a council held in Pisa (where the pope of Illueca was accused of being a schismatic, heretic and necromancer). Benedict XIII remained influential, for example, in the politics of the Crown of Aragon, and organised events (such as the Tortosa Controversy) to revive his role in the Church.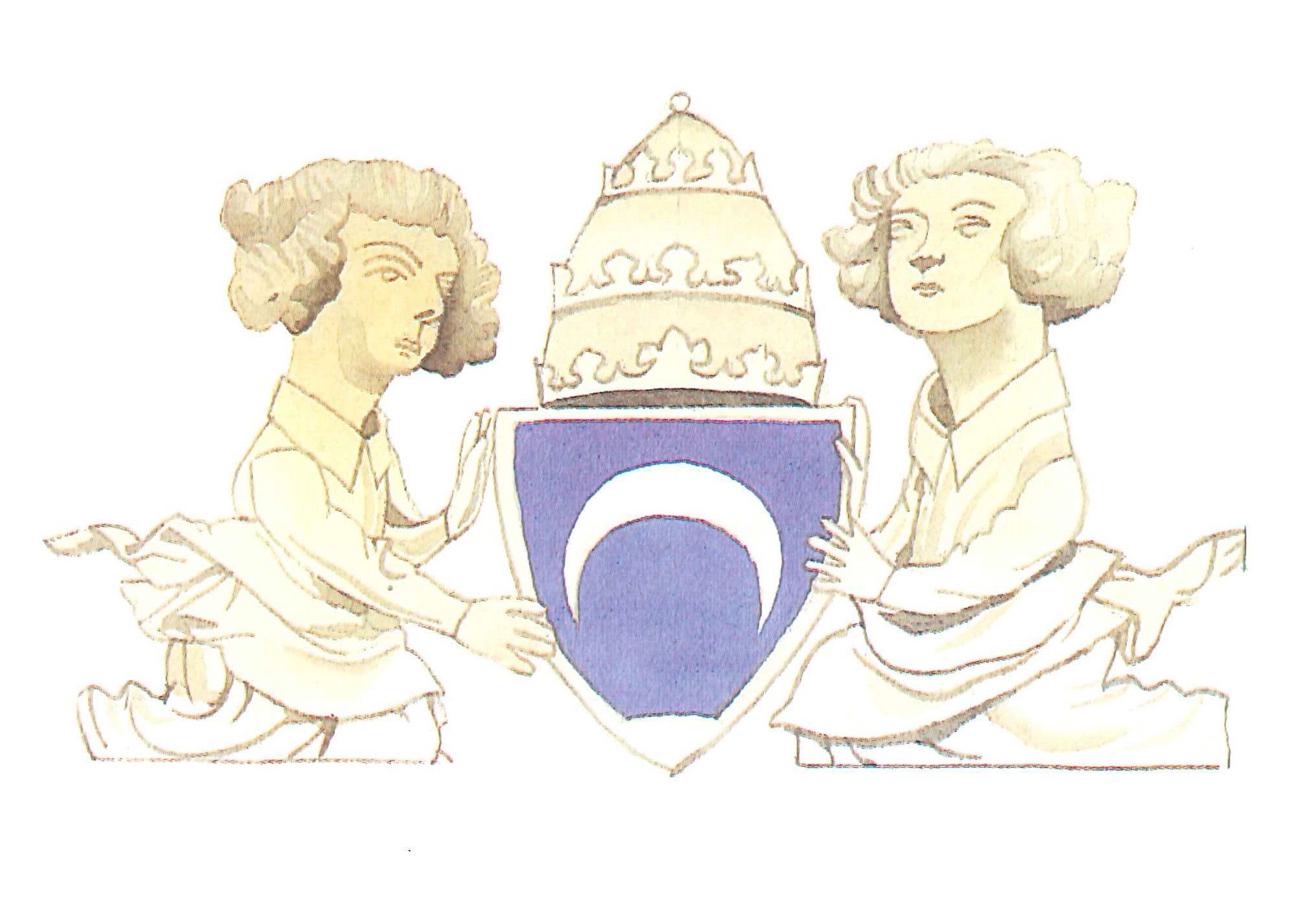 In 1414, Emperor Sigismund convened a council in Constance to wipe the slate clean and elect a single pontiff for the whole of Christendom after the resignation of the three popes "in circulation". He succeeded with two of them, but he was not successful with the Aragonese, who also turned a deaf ear to the requests of the preacher Vincent Ferrer and King Ferdinand of Aragon. The latter's successor, Alfonso V, kept him under his protection in his retreat in Peñíscola, in an old Templar fortress where he set up his papal court, no longer recognised by anyone.
This is how Antón Castro describes those years of retirement: "He read until late at night by candlelight and wrote daily. He possessed an extraordinary library of more than two thousand volumes, full of codices, manuscripts covered in vellum with gold bindings, classical texts in Latin and Greek, and books of recent literature: Boccaccio, Francesco Petrarca, Pedro Alfonso from Huesca, the chronicler Pero López de Ayala (…). He realised, with pain, that he had been left alone in that peaceful old age of a deposed hero".
Defiant in the face of the world, surviving poisoning and various attacks, he rested completely in 1423. His cardinals elected a successor, Clement VIII, who abdicated a few years later under pressure from the King of Aragon. Some say that this line continued secretly for centuries and is still maintained today. But that is the stuff of cheap fiction given to conjuring and esotericism.
References used and proposals:
Antón Castro (1993): "El Papa Luna, varado en el océano de la fe", en Antón Castro y José Luis Cano, Aragoneses ilustres, ilustrados e iluminados (pp. 48-53). Zaragoza: Gobierno de Aragón.
Gran Enciclopedia Aragonesa on line: http://www.enciclopedia-aragonesa.com/voz.asp?voz_id=9926
El Papa Luna, 600 años sin descanso, (película documental) de Germán Roda, very interesting. Trailer and other extras at https://www.heraldo.es/especiales/papaluna/ With the event of the theft of his skull in 2000 as a central element, the life of the character and his time is traced through various specialists.
A turbulent time and, in the midst of it all, a divided Christendom
Pedro de Luna's long life, almost a hundred years, coincided with a period of change, crisis and confrontation. The Hundred Years' War between France and England led to other conflicts (such as the violent civil war in Castile and the War of the Two Peters that pitted that kingdom against Aragon, among other conflicts throughout Europe). The Black Death of 1348 and the epidemics that followed, linked to famine, caused a demographic crisis, accentuated economic imbalances, and brought about social, political and ideological upheavals.
The Schism of the Western Church is a mirror image of this situation, which is also conducive to heretical movements and the search for salvation by unconventional means. Find information on these two terms: "flagellants" and "dances of death".
In recounting the life of Pedro de Luna, we have already revealed the keys to this tense and complex historical moment, to which his biography is so closely linked: the long episode of the Avignon pontificate and the confluence of two and even three simultaneous papacies. Those years were full of intrigues, political alliances and diplomatic games on various sides, with shifting loyalties and betrayals, lukewarm neutralities and armed clashes in a divided Europe. There were events that were shocking to say the least. In the early years of the Schism, Popes Urban (Rome) and Clement (Avignon) excommunicated each other, so that the whole of Christendom found itself excommunicated. The chaos was tremendous: dioceses with two bishops, monasteries with two abbots, religious orders with two generals, parishes with two parish priests, and so on.
Such a global crisis provoked extreme reactions: spiritual, mystical and idealistic on the one hand; materialistic and "immoral" on the other. In culture, secularism and humanism began to challenge the dominance of the Church. This age-old institution, which was not very open to change, began to show cracks that would lead to the Reformation movements, as radical criticism and rupture, in the 16th century.
Look for information on literary and/or artistic manifestations that take a more "earthly" approach, which move away from the strictly religious and spiritual to speak of human weaknesses, sins and passions. To give some examples that will ring a bell: The Book of Good Love and La Celestina.
The origin of a stereotype?
Pedro de Luna insisted that he was the only one who, according to Canon Law, could sanction a new pope. In 1415, in Perpignan, for seven hours, at the age of 87, he presented his arguments to Ferdinand of Aragon. He gave, says Antón Castro, "a master class in oratory, theological wisdom, irreverence to human powers and stubborn independence". On another occasion he went so far as to say that, before abdicating, he would let himself be burned.
The saying "stick to his guns" refers to someone who does not renounce what he believes to be right and who sticks to his ideas despite unfavourable surroundings. Our protagonist was firm to the end in his right to continue to hold the papal dignity, to remain Benedict XIII until his last days.
Look for some expressions that have a similar meaning ("not giving in", "not getting off the donkey", "sailing against all odds").
There are those who see in his attitude something generalisable to the Aragonese way of being. Stubbornness as an extreme version of tenacity, willpower and vehemence. Or self-confidence, a sense of justice and a refusal to renounce one's rights, what one considers to be one's own. It has been said that Aragon is a land of pacts and negotiation, but also of abiding by the law (standum est chartae, or to abide by what has been agreed, to respect what has been agreed).
Look up the definitions of these terms: obstinacy – stereotype – cliché.
He knew that he was beset by enemies and that his stubbornness was at the centre of disputes in councils and royal meetings. He was appointed pope when he did not want to be, at a time when the Schism was shaking the whole world, and then, to keep his position, he resisted plots, protracted battles, calumnies and irretrievable losses. He showed that he was as diligent with spear and sword as with tongue. He was not ambitious, nor greedy for riches, although he was always skilled in intrigue and a convincing diplomat. (Anton Castro)
A mole (on the foundations of anti-Semitism) and several virtues in Luna's
The late Middle Ages were a difficult and unjust time for the Jews. Scapegoats for many of the evils that plagued Europe, at the end of the 14th century they were the victims of pogroms, bloody persecutions with thousands of deaths and forced conversions in cities in the crowns of Castile and Aragon. In this hostile environment, Pope Benedict called the Controversy of Tortosa (1413-1414): a debate between Christians and Jews, manipulated to wrest moral authority from the latter and conducted by means of indoctrination (with rabbis forced to attend and enduring accusations and threats). To Benedict XIII we owe the bulls Contra judaeos and Etsi Doctoris Gentium, which further darkened the outlook for Jewish communities.
This "shadow zone" fits into a complex personality. Impetuous, as we have seen, a brilliant and highly cultured intellectual…
Pedro de Luna wrote the Book of Human Consolations, in which he follows the Latin philosopher Boethius. There is no agreement on its date of writing: some maintain that he wrote it before he was made cardinal, while others date it to 1414, the time when he suffered the greatest international harassment. The treatise, divided into fifteen books and 68 chapters, shows various procedures for teaching the individual to overcome the adverse circumstances of human nature.
… patrons…
A powerful man, Pedro de Luna financed works that no longer exist today (such as the dome of the cathedral of La Seo de Saragossa, San Pedro de Calatayud and a bust-reliquary of Santa Engracia that was apparently melted down by the French during the War of Independence), and others that still remain: the busts-reliquaries of San Valero, San Vicente and San Lorenzo (today in the Seo), ornaments in the cathedrals of Valencia and Tortosa, in the monastery of Santes Creus (Tarragona) and part of the cloister of the cathedral of Huesca. Copies of his magnificent library of religious books and classical and contemporary authors are kept in several libraries (National Library in Madrid, National Library in Paris, the Vatican, El Escorial, among others).
… and influential man.
Pope Luna managed to get the engagement held in Caspe to elect the king of Aragon, and that this was Fernando de Trastámara (a family friend since, as a young man, he helped Fernando's grandfather, Enrique, in the civil war that ended with the latter on the throne of Castile).
Although Benedict XIII also knew how fickle friendships can be.
St. Vincent Ferrer, a preacher, had much to do with the widespread anti-Semitism to which we have alluded. This Valencian Dominican also had an enormous influence on the politics of the Crown of Aragon and on the final outcome of the Compromise of Caspe, which culminated in the election of Ferdinand of Antequera as king of Aragon. Ferrer also got on very well with Benedict XIII, although he ended up sidelining him. Another who ended up withdrawing his support for Pope Luna was King Ferdinand, who had benefited greatly from the actions of the Aragonese. The latter complained: "I, who made you, you send me to the desert".
Pope Luna's adventure… in the 21st century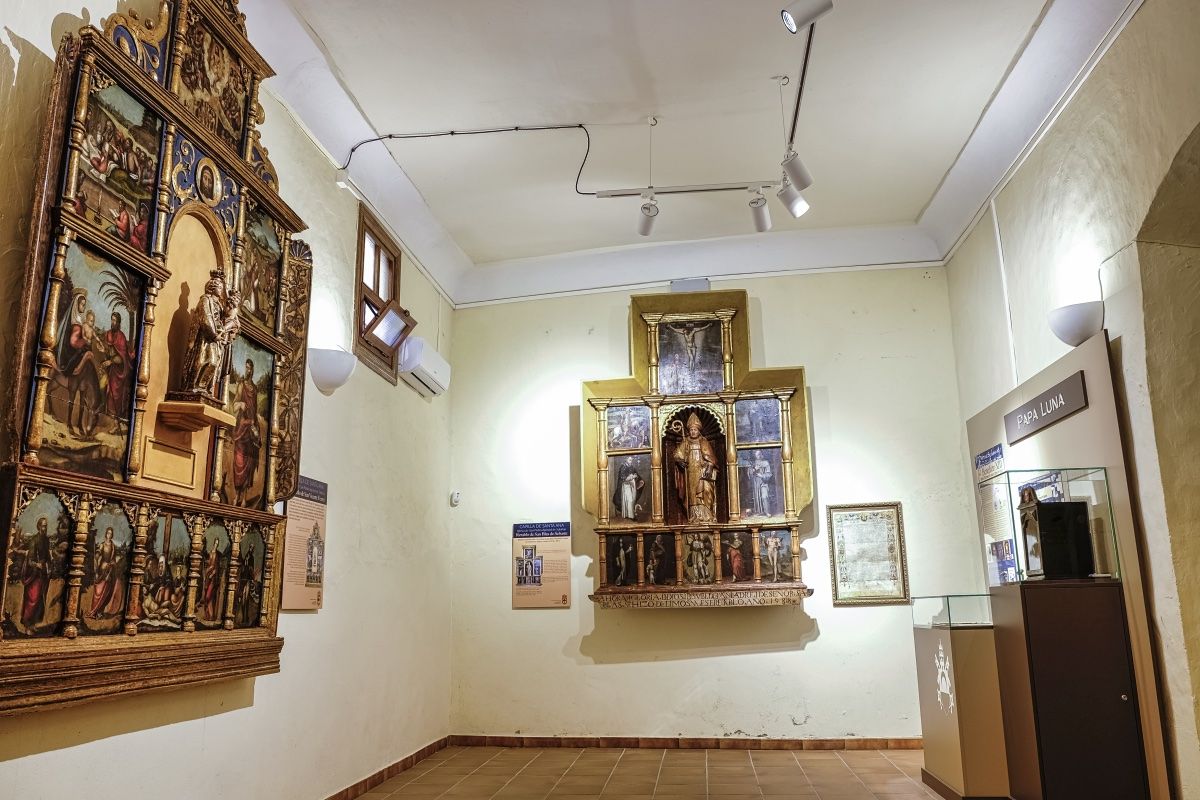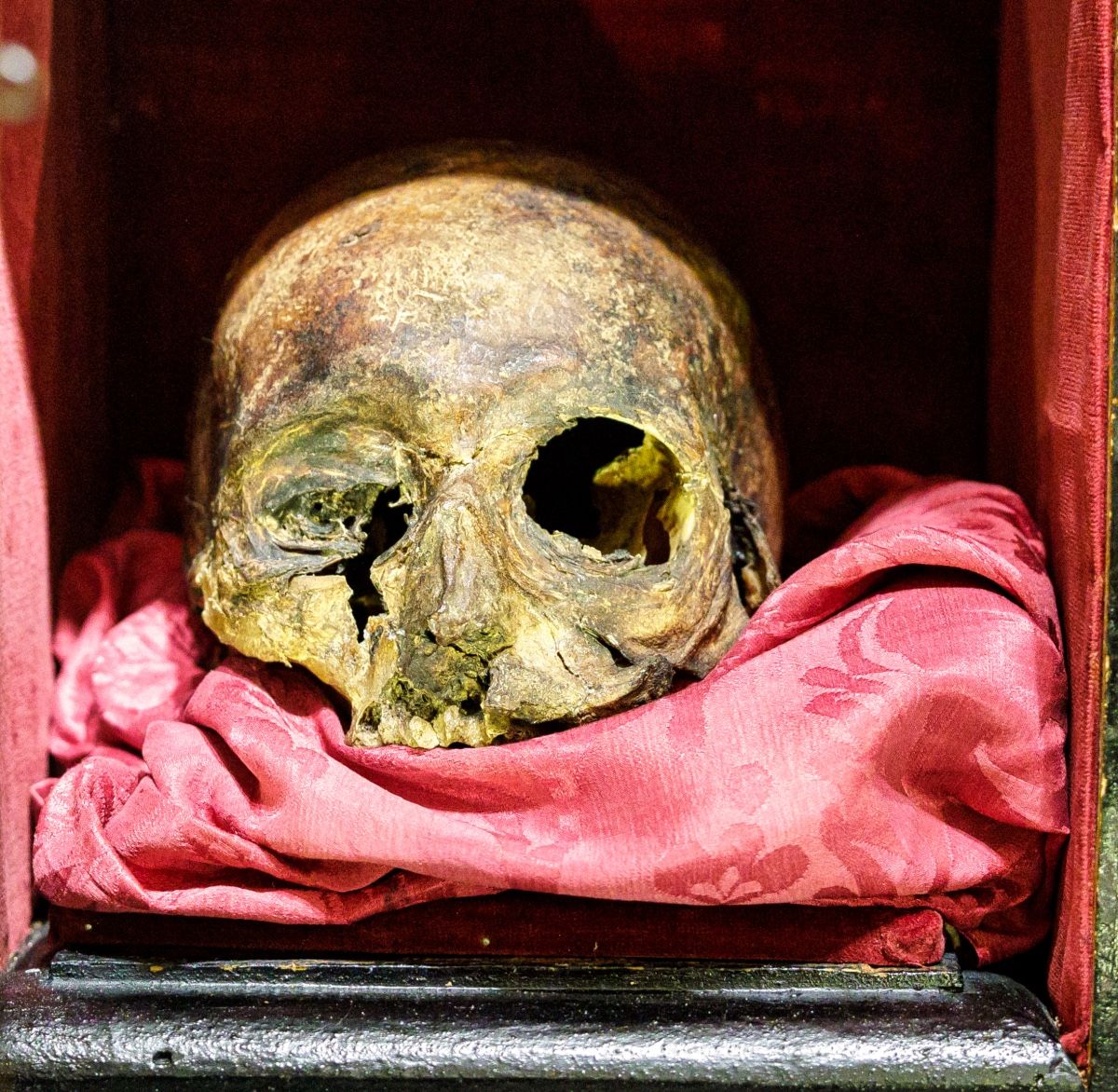 The year after his death, the body of Pedro de Luna was disinterred to transfer his remains to Illueca and it was discovered that it was still intact. It was installed in his palace in an urn, in the same place where he was born. The body was lost during the War of the Spanish Succession in the early 18th century, and only the skull was recovered and transferred to the Argillo palace in the nearby town of Sabiñán. In April 2000, the relic was stolen and a ransom of one million pesetas was demanded. Some rather clumsy "kidnappers" were unmasked (in the end it was nothing more than a common hooliganism). After two decades in the Museum of Saragossa, in the spring of 2021 it returned to Sabiñán, to the chapel of Santa Ana, which has been fitted out inside the church of San Pedro, where it can be visited today.
Visit the page whose link is shown among the references (documentary El Papa Luna, 600 años sin descanso). You will find out much more about this complex personality.
Finally: the "other" Benedict XIII
Having held the pontificate in the midst of this mess, and refusing to yield to the majority line, Peter of Luna is not recognised in the official list of popes. He has gone down in the history of the Church as an "antipope" (which carries a negative idea into posterity). When in 1724 the Dominican Pietro Francesco Orsini was elected Pope, and took the name Benedict, he began to use the ordinal XIV, until he was warned that the one who had worn XIII had been an antipope and was therefore free, rectifying the numbering. In 2018 an initiative was presented to the Vatican to request the rehabilitation of Pedro de Luna as official pope, supported by several Spanish bishops. As with other things, it seems that things in the palace go slowly.
There is an "official" History, written by the victors, but on the reverse side there are other "alternative histories". Benedict XIII, "ours", despite being a powerful man in life (also tormented), seems to be part of that other side of History. Search, consult, ask questions and share examples of "official histories" and "histories from below": forgotten people, little-remembered events, etc. It makes for good reflection.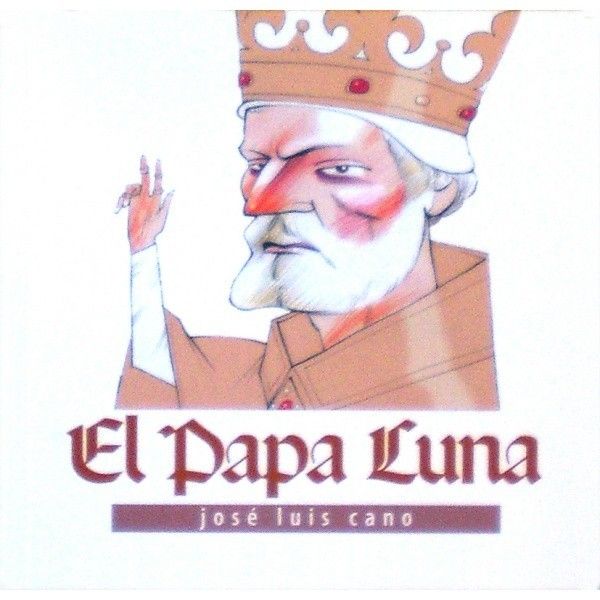 Download from this link the PDF of the publication edited by the Xordica publishing house with the sponsorship of the Obra Social de Ibercaja.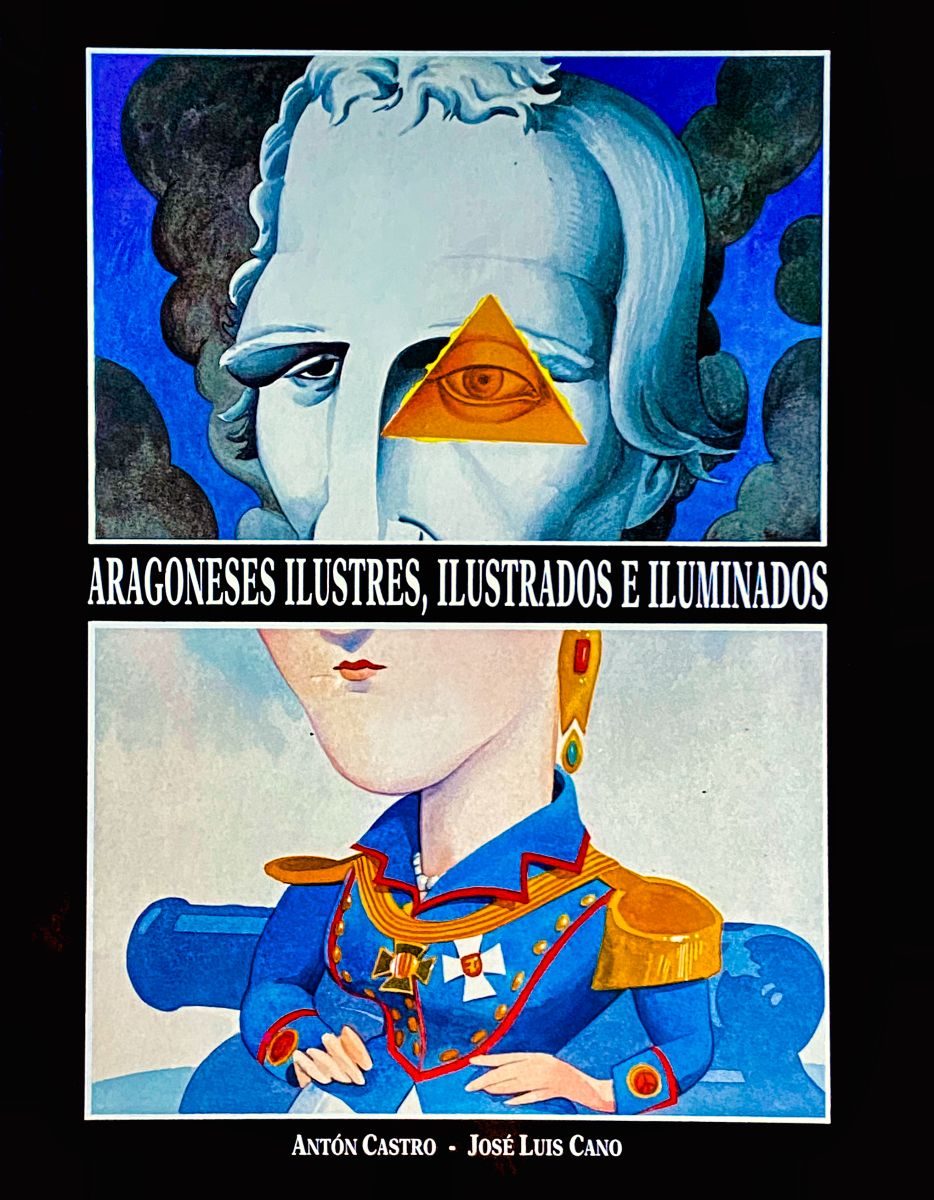 Download from this link the PDF of the publication Aragoneses ilustres, ilustrados e iluminados, by Antón Castro and José Luis Cano, published by the Government of Aragón in 1993.


DIRECCIÓN GENERAL DE POLÍTICA LINGÜÍSTICA
Departamento de Educación, Cultura y Deporte
Parque Empresarial Dinamiza (Recinto Expo)
Avenida de Ranillas, 5D - 2ª planta
50018 Zaragoza
Tfno: 976 71 54 65